Bio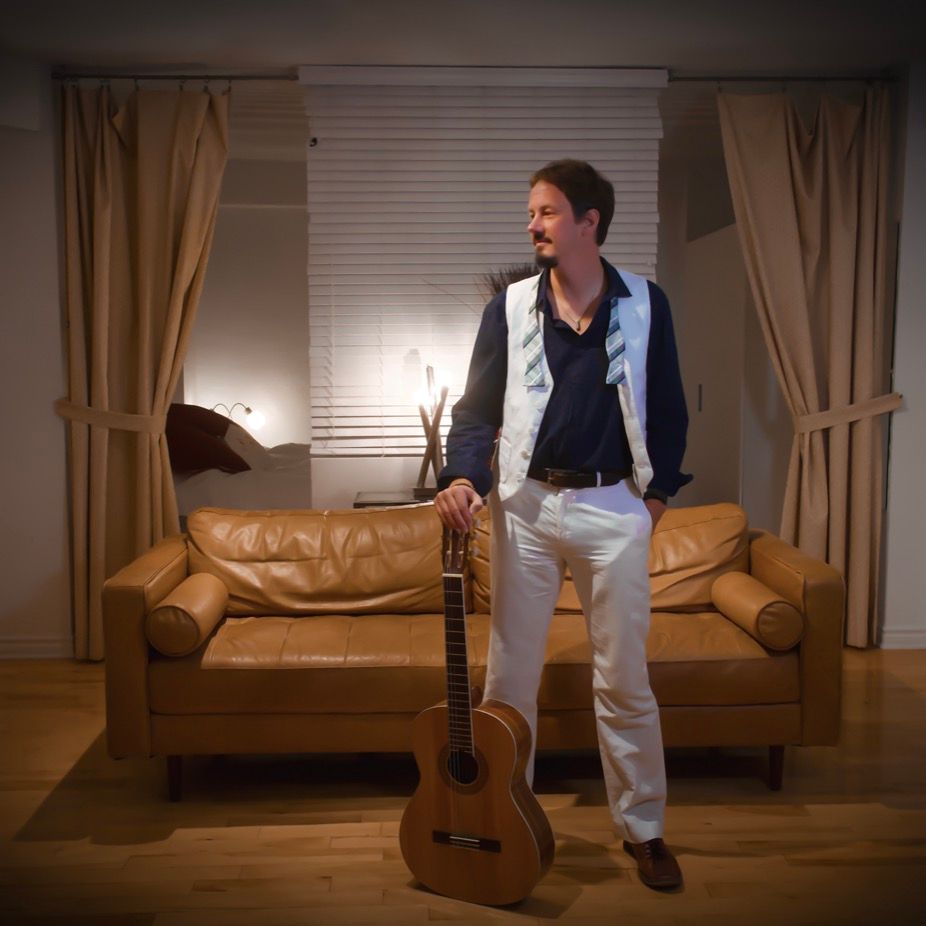 "This river is a fountain of pleasure,  This river is pain. When you wake up in the depths of tomorrow, will it all start again?"
Dre Daniels, This River
Dre Daniels is a singer/songwriter, guitar player  and producer living in Nashville, TN. Winding his way down from the north, Dre set up camp along the Cumberland River in 2021 to  further explore his creative vision in Music City, USA.
To date Dre has independently released 4 albums and 2 EPs as well as a number of singles under the name The Ever After and The Resident Alien. These include his 2019 EP "Take Two" which garnered accolades from a number of outlets including the Hollywood Digest which wrote "the unique bones and creative finish in this record alone would make it a treat for music enthusiasts everywhere."
As a songwriter, Dre is able to craft catchy pop songs like 2019's "Let Me In" in addition to more abstract and ethereal tunes like "Unity" and hard, provocative music like his most recent single "I Am The Virus."  His writing style is reminiscent of the greats - Springsteen, Dylan and Cat Stevens - while adding elements of electronic music, blues, pop, classic rock, jazz and whatever he hears at the grocery store.
Dre has been performing live for more than two decades, as a front man for groups like The Ever After and The Bad Sleep Well, as well as a guitar and bass player for acts like Icenine and The Apostles. He is also a solo performer doing folk/fingerstyle guitar under his own name and electronic music shows as The Resident Alien. He has performed all over the US including international performances in Canada and Europe.
As a musician, Dre is a multi-instrumentalist who is best known for his unique guitar playing style. An accomplished session player with a funky-blues tone and impressive improvisational skills, Daniels has also developed his own signature finger style guitar playing which is prominently displayed on his 2009 release "Oh Dear!"
At the age of 12, Dre began interning at professional recording studios like The Loft in Bronxville, New York where he learned analog and digital recording techniques while working with esteemed songwriters, producers and musicians like Evan Rogers, Carl Sturken and Matt Baxter. He studied electro-acoustics for a period at McGill University in Montreal which gave him a good understanding of the applied physics of sound. Using his firm foundation in recording and production, Daniels produced and arranged a number of recordings for himself including 2009's "Oh Dear!", 2015's "The Only Constant is Change" and 2019's "Take Two". He has also produced singles and albums for others acts including the Apostles, Anomylous Orchestra and Waves&Windows.
Daniels has released a number of videos including "Tirage Au Sort" which has received over 10,000 views on YouTube and has received radio airplay on a number of stations in the US and Canada. In 2015, he was invited to be the Featured Performers at the YES Montreal Art Expo playing for 1000+ art lovers at the historic Theatre St James in Old Montreal. In 2019, Dre was invited to take part in the prestigious songwriter program at the Banff Center in Alberta where he had the opportunity of recording 2 of his compositions at Telus studios with esteemed producer Howard Bilerman (Leonard Cohen, The Arcade Fire) and a lineup of excellent studio musicians including Nashville session man extraordinaire Fats Kaplan.
As a performer and session man Dre has had the opportunity to accompany a number of great musicians including Becca Stevens, Marcelo Berstovoy, Lisa Harriss.
Most recently Dre has been working on a video for his upcoming single "You Done Done Me Wrong" - expected to be released in early 2023 -  and booking shows in support of this new single. He is also finishing up a new album of acoustic material consisting of several original pieces and some popular classical songs recorded during the the pandemic. The plan is to release it later this year and tour in support of it. Additionally, he is working on music for a video game and collaborating with other songwriters in the Nashville area to write new material and pitch it to other artists, publishers and record labels.